Radfield Home Care Camberley, Farnborough & Fleet
Help people in your community age well and remain connected to what matters most to them.
Welcome to Radfield Home Care Camberley, Farnborough & Fleet
We are your local care champions
Run by owner and qualified care manager, Richard Gordon, we specialise in personalised, private care for older people in their own homes.
Radfield is a national leader in home care innovation and a fast-growing, multi-award-winning business. We are united and inspired by our purpose: To keep people connected to the things that matter to them. It's a simple, powerful promise we call Be There.
Everyone who joins the Radfield family has a huge role to play in making it happen.
Care with us
As a registered care manager, I developed a true passion to want to open my own home care business in my local community - providing high-quality person-centred care and support services and offering exceptional employment and career opportunities.

Richard Gordon

Owner/Director - Radfield Home Care Camberley, Farnborough & Fleet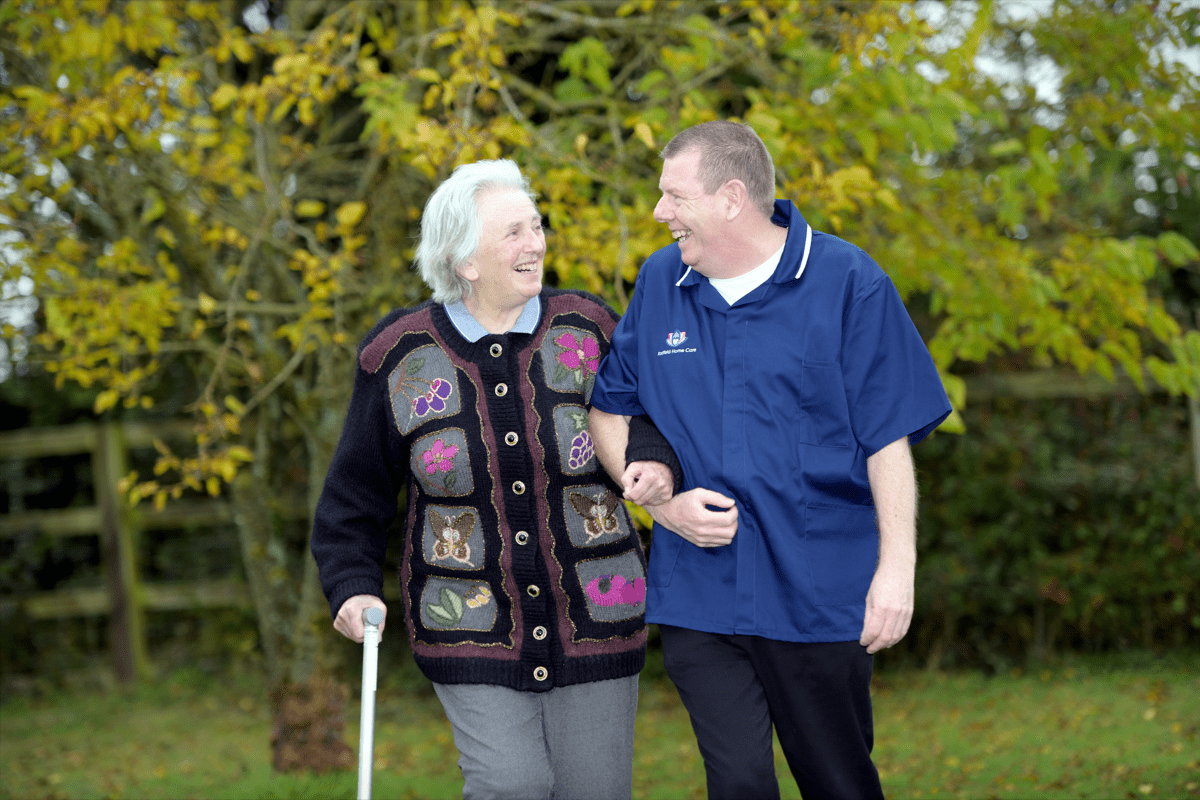 Working at Radfield Home Care Camberley, Farnborough & Fleet
We first opened our doors on 28th June 2021 with the goal of providing exceptional home care services in Camberley, Farnborough & Fleet.
Since opening, our skilled Care Professionals have enabled our clients to lead rich and purposeful lives, centred around what matters most to them; whether it be a favourite hobby, nurturing important relationships, or simply maintaining a comfortable routine.
High-quality care visits are Richard's focus. He achieves this by empowering exceptional Care Professionals to deliver an outstanding service. When he established his Radfield Home Care office, Richard already had a wealth of experience in health and social care.
Richard says: "I always knew that I wanted to move into a more service-driven sector and role, where my input would have a positive impact directly on people's lives. My initial role in the care sector was as a registered branch manager of a home care service - a 'hands-on' role, making a positive difference to individuals every day."
Richard and the team hope to welcome you as part of the Radfield family very soon, whether as a valued client or a Care Professional offering the very best in home care assistance across Surrey and North Hampshire.
Our culture shapes everything we do. From our industry-leading Caring for our Carers™ pledge and core values to our range of benefits and development opportunities, we support and invest in our team to empower them to support our clients and their families.
Our focus is on our team, our clients and their families. It's always nice to see our impact recognised by others and we're delighted to be an award-winning business:
Top 20 Home Care Group 2021 (homecare.co.uk) This award highlights Homecare.co.uk's most recommended Home Care Provider Groups in the UK.
Find out more about Radfield Home Care in Camberley, Farnborough & Fleet.
Camberley, Farnborough & Fleet (Surrey)
We are proud to care
Radfield Home Care is a national business, specialising in private home care for older people. We're a forward-looking, award-winning business setting new standards for the quality of care in all our communities.
See what working at Radfield will mean for you.